AIR STUPID FOLO: 'Toy' guns pose real danger - FLORIDATODAY.COM
See on
Scoop.it
-
Thumpy's 3D House of Airsoft™ @ Scoop.it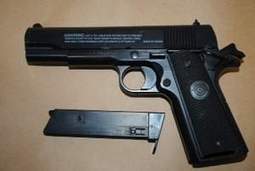 A man with a pellet gun who acted aggressively toward Brevard County sheriff's deputies outside the Viera courthouse on Friday was the third man to be killed by police while brandishing a fake gun in four years.
Thumpy Covey's insight:
Lets see if we can help our learned and not-so-learned friends from Florida with this story.  
AIRSOFT GUNS ARE NOT TOY GUNS. PERIOD.
Unfortunately, the only people who get this right are the big-box store folks selling the CRAPTASTIC PLASTIC guns that are the root of the "problems," not the great retailers and airsoft business people who provide an education with every sale…and DO NOT SELL DIRECTLY TO MINORS!
See on floridatoday.com