OH OH! - China seizes largest cache of "illegal weapons" including 10,500 guns - dailymail.co.uk
See on
Scoop.it
-
Thumpy's 3D House of Airsoft™ @ Scoop.it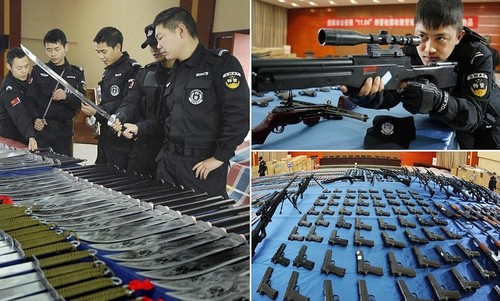 Police in the city of Guiyang seized 10,500 guns and 120,000 forbidden knives while 15 people suspected of being part of a criminal gang involved in the manufacturing and trafficking of firearms were arrested.
Thumpy Covey's insight:
:Look closely, and you'll see the telltale warning sticker on that sniper rifle that tags it as an "ILLEGAL" Airsoft gun…and, like our buddy Matt Furey-King, we wonder what company/ies and WHOM were the targets of this crackdown.  Could it be another ACM factory bust, or more this time?  Anyone with details, please chime in…especially interested in hearing from HK/Taiwan players & companies with connections who might sort this out for the community…..
See on dailymail.co.uk